Robert Gray: Paul Ingram's Lost Clerihews Found
First, a confession: I did not know what a clerihew was until I learned that Ice Cube Press would be publishing The Lost Clerihews of Paul Ingram July 1 (shipping June 15). On the other hand, I did know that the author is a legendary bookseller at Prairie Lights Bookstore in Iowa City, where he has worked since 1989. Whenever a list of great indie handsellers appears, he is inevitably on it.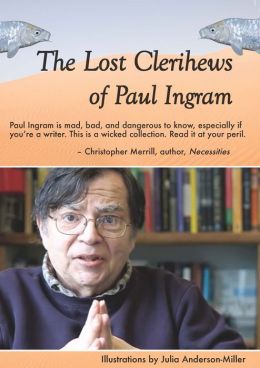 From Ingram's introduction to his collection, I soon discovered the clerihew was first devised by English author Edmund Clerihew Bentley and follows the rhyme scheme AABB, with the first line including "the name of a well-known or ill-known person." Since Bentley's death in 1956, and despite its adoption by poets like W.H. Auden and Anthony Hecht, "the form has seldom been in use."
Until now, that is. Ingram's mischievous creations have been found at last ("And how did they become lost? Many reasons. They are tiny and often find themselves on napkins, old receipts, sugar packets and matchbook covers."), and readers will soon enjoy the pleasure of their company.
Igor Stravinsky
Couldn't convince me
He knew one damn thing
About the rite of spring.
Ingram said he had doubts when he initially toyed with the form 20 years ago: "I believed I just wasn't clerihew material. I just wasn't that clever. But I do all the buying for the bookstore and had hundreds of names going through my head, so once I'd figured out how to do a couple, I figured how to do a lot of them." Although he estimated he has composed as many as 400 ("not 400 good; not 400 publishable"), Ingram noted that "there are plenty that I did not include in this collection because they are pointedly offensive."
Does the clerihew perhaps allow him to vent a little? "I feel I'm generally a way, way too respectful person, but I don't always necessarily feel that way," he replied. "It's just what came out; they come out kind of naughty. I think most of what I have in there now is just this side of printable."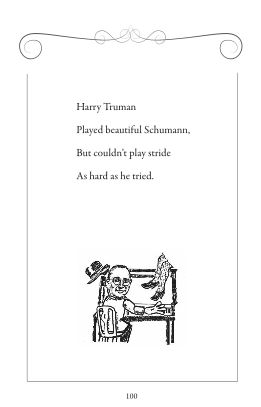 In his blurb for the collection, Richard Howorth, co-owner of Square Books, Oxford, Miss., called Ingram "an extraordinary bookseller who has not only found the lost clerihews; he has elevated the entire form. This book forever shall reside in our guest bedroom so that visitors will either know or wonder what sort of people we are."
How Ingram's clerihews evolved into a book is one of those great tales of the right people converging in the right place at the right time.
"The book's genesis was mostly through Bruce J. Miller, who encouraged me to go listen to Paul tell me some of them," said Steve Semken, founder and CEO of Ice Cube Press. "I listened to Paul recite clerihews and laughed and loved how clever they were. At first they seemed merely funny, but then, when I realized the point of a clerihew is also to make biographical points about the person, I thought, What could be better than laughing and learning all at once?"
Miller, co-owner of Miller Trade Book Marketing, added: "It's been an exciting time. For me the publication of Lost Clerihews represents the fulfillment of my long held wish to help bring Paul's work to a national audience. I asked him from time to time if he had thought about publishing his wonderful clerihews, and this time I was able to help make it happen."
The book is illustrated by Miller's wife, Julia Anderson-Miller, an accomplished artist who has known Ingram since 1987. "When I was asked if I had the time to illustrate The Lost Clerihews, I was so happy!" she recalled. "What an education and variety of inspired situations those clerihews provided for my creative juices. I was only planning to do 12 or 24, but ended up doing 134. And I still do not want to stop–but the book is finished.
"I did not want to illustrate verbatim, so it was fun to wander off a wee bit. I needed research, because I did not know who some of these people were, and I also needed to get the realism of gesture, face or interesting facts. I looked forward to solving difficult clerihews to put into pen and ink. I love a challenge."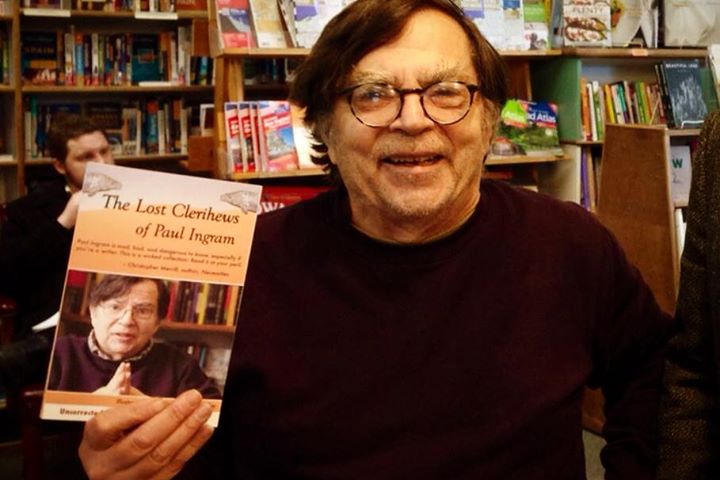 "Having an illustrated clerihew book is 'how it's done,' " Semken observed. "Auden's was illustrated, as was E. Clerihew Bentley's clerihew book. This really is a valuable part of the book, I think."
The Lost Clerihews of Paul Ingram will include a foreword by Elizabeth McCracken and has already drawn accolades from a range of word enthusiasts, including Jane Hamilton, Daniel Menaker, Roz Chast, Elizabeth Crane, Christopher Merrill and Amelia Gray; as well as booksellers like Howorth and Anne Holman of the King's English Bookshop, Salt Lake City, Utah.
And what does the future hold for the clerihew? "I would be absolutely delighted to see great clerihews popping out all over," Ingram said. "I'd love to be part of making that happen. I have also discovered, for example, that just about all of them fit in a tweet."
Semken may have summed up the Team Clerihew project best when he said: "That Paul works at Prairie Lights in Iowa City, and it was through a Midwest sales rep telling me, an independent press in the Midwest, about the idea–I really think all these parts working together prove that real partnerships exist in the book industry, that we all need each other." —Robert Gray, contributing editor